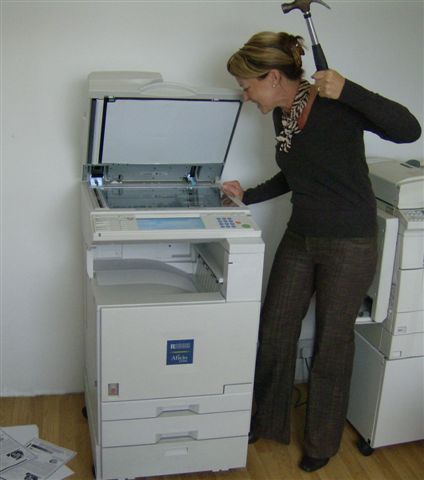 We've all been there !!!!!
Area's covered are within 30 miles of Derby Nottingham Birmingham and Staffordshire only
All photocopiers break down from time to time but they always seem to breakdown when you most need them and you need the copier fixing as soon as possible.
Trade Price Copiers will be with you within 8 working hours this may seem a lot but we're not one of those companies who promise to be there in 4 hours and simply turn up when they can even though it does say on their website they'll be with you within 4 hours,
The best Photocopier dealers aren't sitting around twiddling their thumbs waiting for the phone to ring and promising to be with you with 4 hours the best are usually busy !!
LOAN MACHINE
If we can't repair your copier the same day and have to take it away to our workshop we will provide a loan machine until we can return the copier to you fully working thus you can carry on with a normal working day
If you copier does require any parts we will let you know the price before we installed or fit them so you don't have any nasty shocks.

Price are
£75 mono photocopier service call out
£95 colour photocopier service call out
Call us on 0115 939 5577 or email us your model number

Photocopiers to rent buy lease second hand reconditioned new are available through out this website go to the home page